This is the Winter Break that never ends…it just goes on and on my friend! We happily started it not knowing the polar vortexes would come…and if the kids don't go back to school soon the mamas will be drinking Rum! This is the Winter Break that never ends…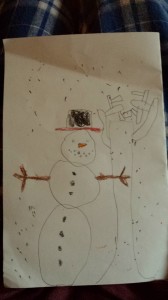 So today wasn't pretty.  I lost it.  More than once.  More than twice.  Okay maybe three times. (Or more. I lost count.)  There were times I snuck into my room, threw my face in my pillow and cried out to the Lord Almighty for strength to keep putting one foot in front of the other.
We have a major case of "post-Christmas/post-travel/post-mama's recovery from her latest medical adventures" hangover in this house, and it ain't pretty.  Oh yes, I did just write ain't.  Screw grammar.  I'm feeling ballsy.  Or maybe just frayed at the edges and wound up so tight I may be dangerous to be around.  Maybe.  On top of it all, my flu shot malfunctioned and I got the flu. Not a good combination.
These children neeeeed to be in school.  Facebook is all lit up with mother's praying for the polar vortex to get sucked away so the children can continue the fine education Northern Virginia has to offer.
Help me, Jesus, I don't want to wish these days away as I know they are precious. My boys will be grown men and some pretty young thing will steal them away from me (I've said it before – hussy). But there is one thing no one tells you when they hand you that bundle of joy.  The days are loooonnnnggggggggg.  Whether you are trying to get an infant to nap, playing the same game over and over again with your toddler or watching your 7-year-old show you the same magic trick for the 200th time – the days can drag on.  It is so easy to forget how precious these little people are that are giving you the grey hairs and forehead creases from all those raised eyebrow "you did not just do that" looks.  Especially when they have been on Winter Break FOR-EV-ER.
I don't have answers for you on how to grab onto these days and hang on for dear life except for…well, to do just that.  Grab on tight.  Pray hard.  Lock yourself in the bathroom when needed. Scream into a pillow. Plug in your ears with you earbuds and rock out to the Pandora station that buoys your soul.  Whatever it takes to survive, ladies (and men – I know there are some daddy's feeling it too).  We are in this together – all of us desperately trying to do what's right for our children and holding out a million little failures and successes each day.  Today I felt like those failures outnumbered the successes but I have to believe that God really meant it when He said "love covers a multitude of sins".  Because love these little people we do.
Although, I might love them a little more when they go back to school.
What can I say, I'm a work in progress.